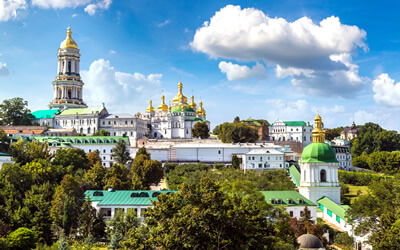 We offer stays in Kyiv (Kiev), the splendid capital of Ukraine, authentic and modern.
A millennial city born in the 9th century, Kyiv (Kiev) is steeped in a rich history, as glorious as it is tragic, and includes an exceptional cultural and religious heritage.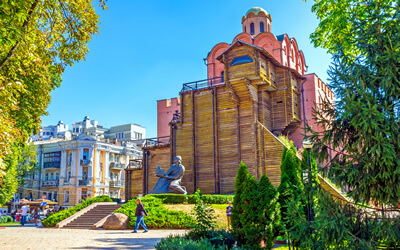 Kiev is also a city of great modernity, welcoming and with many establishments corresponding to high Western standards: design hotels and palaces, gourmet restaurants, luxury shops, bars and nightclubs, chic, festive, with a very nice clientele . Also many beautiful mid - range places, accessible for all budgets.
Every new visitor is surprised by Kyiv (Kiev): an arrival in an ultra modern airport (Boryspil), a cultural city at once authentic, modern, clean and safe. There are welcoming establishments with English speaking staff, delicious Ukrainian cuisine, and a surprising architectural mix. And a population waiting for you to show you how beautiful and pleasant their city is.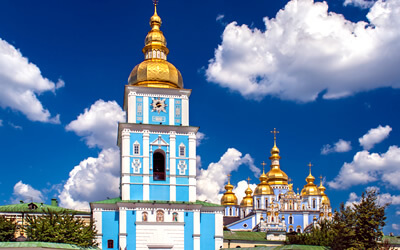 Kiev enjoys a continental climate: it is hot in summer and cold in winter. The city presents different faces during the year and deserves to be visited as well under the sun of spring and summer, as under the snowy coat of winter.
The magnificent Cave Monastery Lavra, Saint Sophia Cathedral, St. Michael's Monastery, St. Andrew's Church and St. Volodymyr's Cathedral are some of the most important examples of Kyiv (Kiev)'s religious significance. Inescapable for all lovers of history and religious architecture.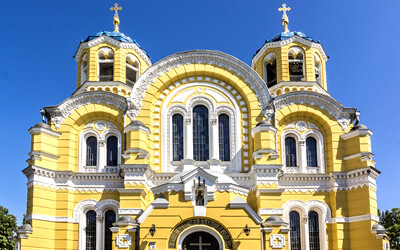 Kiev is also notable for its charming, picturesque cobblestone streets, including the famous St. Andrew's Descent. Also for its large green spaces inside the city that offer beautiful ballads.
Artistic and cultural capital, Kyiv (Kiev) has many museums, monuments and cultural places like the Kyiv (Kiev) Opera House or the original House with Chimeras.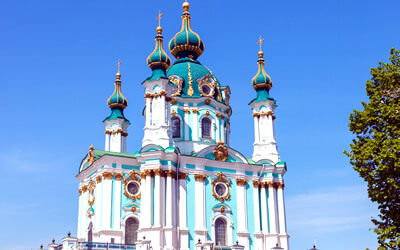 We also see the Golden Gate, a reconstructed remnant of medieval Kyiv (Kiev). As well as elements of Soviet architecture such as Khreschatyk Street, main street of Kyiv (Kiev), the Statue of the Motherland, the monumental underground stations, or the impressive Stalinist building.
Not to mention the monumental Maidan Nezalezhnosti Square, symbol of Independence of Ukraine.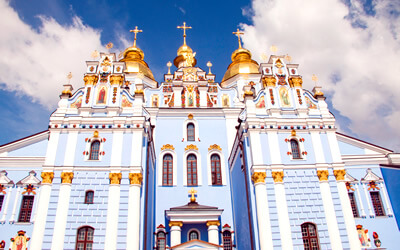 A true jewel preserved from mass tourism, Kyiv (Kiev) is the cradle of Slavic culture and Christianity in Central Europe. Kyiv (Kiev) was thus the first capital of the ""Kiev Rus"", a political territory common to the history of the three modern Eastern Slavic states: Ukraine, Russia, and Belarus.
The name Kyiv (Kiev) comes from one of its founders, the slavic prince Kyi.
Kiev occupies a central historical place, and has had an exceptional destiny. Great medieval power, the city has been the subject of invasions and attachments. Mongolians, Lithuanians, Tatars, Poles and Russians came to Kyiv (Kiev) and Ukraine before becoming independent again in 1991, at the end of the Soviet Union.
These movements of history gave Kyiv (Kiev) a remarkable identity, with varied architectural styles, mixing Byzantine, Oriental, Ukrainian, Imperial and Soviet influences.